The Campaign Against the Arms Trade, Ethical Consumer magazine and Reclaim the Streets were among the perfectly legal groups illegally targeted by an offshoot of the notorious Economic League, MPs have been told.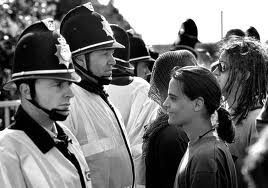 Jack Winder spent 30 years with the League – which kept files on people it considered subversives on behalf of corporations. He rose to become its director of research. He told MPs on the Scottish Affairs Select Committee that after the League folded he and a colleague, Stan Hardy, set up Caprim "to warn companies about threats to their well-being".
He said clients did not include construction companies such as Sir Robert McAlpine, which gave Caprim
£10,000 as a "goodwill" donation, with the proviso that it kept clear of the work of the Consulting Association.
The Association was set up in 1993 by another former League official, Ian Kerr, to provide intelligence on individuals specifically for building firms. It was a raid on the Association by the Information Commissioner in 2009 which exposed the secret blacklisting operation and led to the MPs' investigation. The committee had previously been told that McAlpine was instrumental in setting up the
Consulting Association. It paid the League £10,000 for its Services Group files, on individuals and organisations, set up for the construction industry after the building workers' strike of 1972 to target those involved.
While Mr Kerr was collating information for dozens of construction companies, Mr Winder and Mr Hardy
were touting their advice to other sectors.
He said: "During the 1990s, the sorts of things which exercised our minds were campaigns against
multinational companies. You had the Transnational Information Exchange in Amsterdam, which had offshoots in this country, Multinational Monitor based in Washington. You had campaigns against the City of London culminating in three consecutive years of riots run by an outfit called Reclaim
The Streets. These were anarchists.
"We made it our business to find out what was going on and warn the companies.
"You had the whole ethical industry. People who set themselves up as arbiters about what was ethical.
They advised investors and how shareholders should vote."
Mr Winder said they targeted campaigners against the defence, pharmaceutical and agrochemical
industries. He named GlaxoSmithKline, Novartis, Rhone-Poulenc, Zeneca, Monsanto, Rio Tinto, J P Morgan and Morgan Stanley as among Caprim's clients.
He denied any links with the security services though he admitted that he regularly met Special Branch
officers while with the League.
Over 15 years, Caprim's turnover totalled £1 million, according to Jack Winder, but folded in 2008 because it lost clients and he was looking to retire.
Ian Kerr died at the end of last year.
Filed for Tribune Feb 6, 2013