Evidence that breeding, good schooling and an early career ordering soldiers about doesn't necessarily lead to noblesse oblige comes with two stories from Wiltshire's upper classes.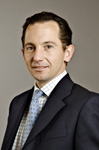 Sir James Fuller, right, has just won permission to re-open a stone mine on his huge country estate in Neston, about eight miles from Bath. However he has been adamant that the lorries serving it not travel past his house. Instead they will go on a longer rout via narrow country lanes thus affecting his neighbours. A spokesman for Ham and Doulting Stone Ltd, which has the licence to quarry and will be resonsible transporting the stone, said that the route would only be used by a couple of HGVs a day.
However residents have accused Fuller of not caring about the fact that HGVs will bring noise, pollution and congestion in his efforts to extract profit from the mine and peace for his country pile. (There's a good map in this Daily Mail report). A petition signed by 450 residents was met with seemingly arrogant disdain according this report from campaigners. Wiltshire Council's cabinet member for transport is against the plan, as is MP Duncan Hames. Probably the only neighbour not to object was the owner of the Great Chalfield Manor estate - but then that's another member of the Fuller clan.
Fuller, a baronet, was schooled privately at Milton Abbey in Dorset and, aged 21, joined the Life Guards (just like his grandfather) serving for seven years. He then walked into a job on the board of the family brewing firm and remains a non-executive director. However his main interest is the family's 4,700 acre estate. It has a profitable organic farm shop and shoots for the well-heeled. He has also been accused of using cruel and inhumane methods of animal control - a charge Fuller denies.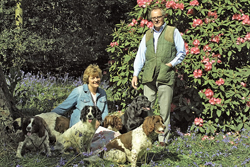 A short drive away from Neston, just before you get to Calne, is another large and profitable country estate - Bowood House. It is owned by the 9th Marquis of Lansdowne (pictured left). After a period of soldiering followed by winning local authority seats as a Tory he now runs the family business.
One of the big issues dominating Calne is a proposal by local waste disposal firm Hills to increase the size of its established waste management facility on the outskirts of the town. Hills needs to handle a lot more waste because it is the contractor for Wiltshire Council which is collecting a lot more from residents.
This application has sparked protests because Calne residents fear that it will increase the number of  HGVs going through the town which has no bypass but a key trunk road running through it.One of the leading lights in the campaign – and who chaired the main public meeting against it – is Lord Lansdowne.
He has other interests, though, beyond fighting for the civic good and running a very profitable estate.
He has put in an application to build 154 homes in Calne (currently being appealed) and one would think this would surely generate quite a bit of traffic both in the building and from homeowners.
Lord Lansdowne has tried several times to build here without success. Interestingly, Hills has a home builder division which put in an application for 200 homes on the outskirts of Calne. One of the seven people to originally object to that scheme was…Lord Lansdowne.
Surely he couldn't be so vociferous in his role with the A4 Say No More group because a rival builder might threaten his development proposals?
Full disclosure: I have provided public relations advice in the past to Hills.