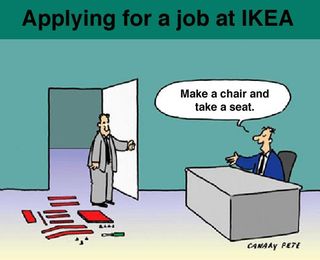 Update March 15: The Guardian reports on the story. Better late than never I guess.
Update: French trade union files complaint (h/t @cheshire_puss).
Allegations a multinational used state security files to vet employees have emerged in France.
According to a Swedish news site, the furniture giant Ikea paid 80 euros a time to check the files which included details on political affiliations. Ikea said in a statement that it was investigating the claims.
The story can be read at The Local.
The allegations surfaced as a result of emails obtained by  the French satirical weekly Le Canard Enchaîné and investigative website Rue89. They say that the company used French security companies to gain access to documents held in the Système de traitement des infractions constatées (STIC). This centralized records system groups together data from police investigations, including both suspected criminals and their victims.

Accessing the documents without authorization is an offence.
When asked by myself about the vetting of potential staff in the UK, the IKEA UK Deputy Country Manager said in a statement (March 1): "The IKEA ethical business standards are crystal clear. We do business in an honest and straightforward way - no matter where we operate. Respect for one's privacy is of highest importance for the IKEA Group and we strongly disapprove of any practices that would infringe on these values.
"In IKEA UK we only perform checks on predetermined co-worker and manager positions prior to their employment.  These are done with the individual's permission and include standard Criminal Record Bureau, County Court Judgement and reference checks, all undertaken by a contracted specialist supplier in this field.  We do not use companies or individuals to gather any other information on potential or current employees and we would never ask for or keep hold of information on personal beliefs or political views."
This is the entry for Ikea in the Information Commissioner's database of data controllers. Actually it does say it records employees "religious or other beliefs of a similar nature" but one could understand why that might be necessary for managing staff or knowing what the make-up of the company is.
(Cartoon from Insert Clever Title)