One of the reasons I went freelance was to do more jobs I found interesting rather than bog standard ones assigned by the newsdesk.
This last week's been a good example of that and I'm about to start writing a feature for E&T on double glazing.
No, please come back.
I interviewed Lee Coates who is the technical director at Wrightstyle in Devizes. They make the frames which double glazed windows are set in and they specialise in making them very, very strong so they can withstand bomb blasts and bullets.
It was very odd to be standing in a workshop in the Wiltshire market town looking at a length of steel with a bunch of bullet holes in it and a door with a spray of holes from an Uzi 9mm . This is how they test their stuff - the shoot it until bullets stop getting through.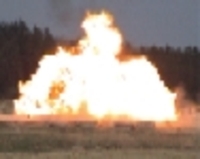 See, you think bullet proof glass is all about the glass but actually it's the frame which counts. The glass is pretty much the same but the damage comes when it and its frame part company. So Wrightstyle have pioneered these ultra-tough frames and are selling them on to the Middle East,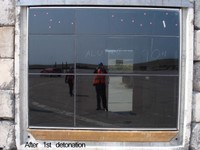 Israel and, increasingly, America.
How tough? The picture on the left is one of their frames getting 500kg of TNT at 500m which pretty much simulates a car bomb. On the right is how it looked afterwards.
The gentlemen from Qatar who watched this demonstration signed on the dotted line shortly after.
So, bullet proof glass isn't about the glass - it's about the frame. Taking out the Trash: a blog that is entertaining and informative.