Private Eye ran a shorter version of my story below in the Christmas edition. I've got a follow-up on another case about a death involving the emergency services which the Avon Coroner has yet to hear and that is currently with the Eye.
It was December 23, 2008 at about 6pm and Mark Read, aged 39, was leaving his work's Christmas party in Bath.
Less than three hours later he was dead.
Read was heading home to his partner and their seven-week-old daughter. At around 7pm he was picked up in Bath by police for being drunk and incapable and taken into custody there. A check at around 8.30pm found he had choked on his own vomit and he was taken to the local hospital. He was pronounced dead an hour later.
 
The Independent Police Complaints Commission (IPCC) had completed its investigation by this July but that could not be released until an inquest had taken place.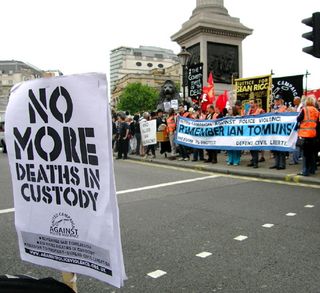 The inquest was postponed at least once but was eventually was scheduled for October this year. However a catalogue of staffing problems at the Avon coroner's office meant it was postponed once more. It is now set for May next year.
The problems at Avon stem from the suspension on full pay of chief coroner Paul Forrest in March 2009 while an investigation into alleged financial and mismanagement issues took place. Forrest, who headed the third largest coroner's office in the country and was paid around £120,000 a year, was eventually sacked in July this year.
However in September he was reinstated and then immediately suspended on full pay because an error meant he wasn't given a ten day grace period to challenge his dismissal.
The acting coroner and assistant deputy coroners had been trying to cope but, inevitably, cases have backed-up. According to its own figures, as of October, there were 151 outstanding inquests going as far back as 2005. (The backlog is now down to about 100 through clearing the less complex cases)
It is understood that one member of staff is now on long-term sick leave and another has left due to the situation.
In the meantime the Read family, including a teenage son from a previous relationship, remain in limbo and without any official explanation as to why Mark died.
In a statement issued through their solicitor, Read's parents, June and Brian from Melksham in Wiltshire, told Private Eye: "The delay in listing the inquest due to the lack of an available coroner has caused a lot of additional distress and upset to my family.
"We are devastated by the loss of our son, who was an extremely hard working and loving person, totally devoted to his family and children."
The family believe there were a number of failings by officers in Bath which lead to Read's death. These include: failing to get help or advice from a police doctor once he was detained; not following the force's own manual on dealing with intoxicated people; placing him on his back in the cell and not the recovery position and not recording his condition properly so other officers knew what to deal with.
The handling of intoxicated prisoners was highlighted in a report by the IPCC issued in December. It looked at 333 deaths in custody in the last ten years and found that drunken detainees were one of the most common groups to die.
It questioned whether police cells were the most appropriate place to detain them and raised concerns about whether officers were following guidelines on safe handling.
Read's family said: "We believe if Mark had been properly cared for, and in particular if he had not been on his back or if medical assistance has been sought, he would not have died.
"We confirm that a civil action against Avon and Somerset Constabulary is being considered on behalf of Mark's children."
ENDS