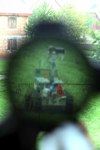 Spent my second day at Copehill Down where the finalists in the MoD's Grand Challenge faced off.
The ideas was for teams made up mostly of people from small firms and universities to design an autonomous system which the army could use to fight urban wars.
As Major Matt Kelly from the Royal Irish Regiment, and urban warfare specialist, pointed out - more and more people are living in cities so that is where the fighting is lincreasingly taking place.
Ideally a small body of soldiers would be able to deploy the system to gather intelligence on things like snipers and roadside bombs.
There were all sorts of robot cars and wheelbarrows and mini-helicopters and gliders taking part.
The winner announced this afternoon was Team Stella.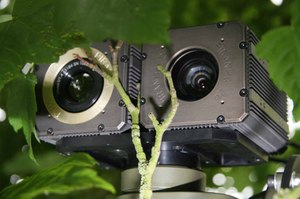 (The first pic is Team Stella's entry, the second isn't Wall-E but Team Thales effort).
Anyhow it's been interesting to cover but I was surprised to see two secondary schools among those in teams. Bruton School for Girls and Royal Grammar Guildford School.
The link between universities and military research is well-established if not well debated. (This report from Scientists for Global Responsibility is worth reading if you're interested). But sixth formers?
Still, as several people pointed out - you've got to get young people interested in science before they take their A levels otherwise it makes it all the more difficult to get them interested engineering at university.
James Randerson over at The Guardian has blogged on this having attended the Grand Challenge event too.
On another tack - any of these spy in the sky gizmos with decent capability will undoubtedly end up being used by civilian police forces and probably in this country. There are civilian spin-offs (mine clearance was one mentioned to me) but security comes first.
Aside from these woolly quibbles there was some remarkable engineering on show which was about as far from male-anoraks-in-the-shed as you can get. If you wanted to get young people interested in engineering (and show them what kind of people are interested) then a few tickets to an open day at the next Grand Challenge would be money well spent. Certainly better spent than that on having the Red Arrows and Typhoon flypasts for the media days.